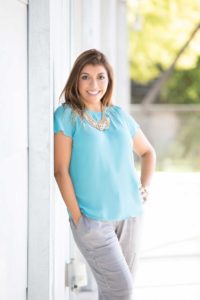 I recently listened to a podcast about women and the choices we make with our lives and careers.  As women, we are asked to carry so many hats these days. We are the CEOs of our homes, amazing wives to our husbands, raising our children, take care of family members as they get older, have a career and making sure we are making time to give back to our communities and churches. How the heck can we focus on our personal ambitions, with all these expectations?
I look back at my 38 years of life and know that at some point I stopped dreaming bigger for myself. I was all consumed with making lots of money in my career and that was it. Taking time away from my career in 2014 was one of the best decisions I ever made for myself. Staying home with my daughter has reshaped me into a better person. I am more compassionate and patient. I was never either of these. She has reminded me that I can do and be anything I want, AND if I want her to believe that, then I should probably start modeling that for her.
When I was in elementary school, on career day I stood in front of the class and shared that I wanted to be a lawyer. Everyone told me I'd be a great one because I was so inquisitive. I was such a curious child. I'm still very curious. It was kind of annoying to my family, but I loved asking questions. I still remember feeling like I could do and be anything when I was 7. Why does that diminish over time? Even now when I ask Averie what she wants to be when she grows up and she says a princess, mermaid, and now Moana! She loves her some Moana! I just love it; she believes anything is possible. She inspires me.
It wasn't until recently that I started to believe that I could do anything again. Wow! What if my whole life, I actually believed that I could do anything?  It's amazing how many limitations we put on ourselves.  It has been 3 years since I've worked full-time. Joining the John Maxwell Team and learning about all the limitations I've been putting on myself and my life was a rude awakening. My mentor and coaches have challenged to be better and create some new dreams for myself. I realized I had need to work on my self esteem, confidence, and willingness to fail and make mistakes. I needed to start by determining which values were important to me and this would be the foundation for my life.
I tell people all the time, I never grew imagining what my future life would look like. I never dreamed of having a huge wedding with all the bells and whistles. For some reason, that wasn't important. I never dreamed of marrying my prince charming, having lots of children, and staying home to raise them. So what did I experience in my childhood that made me warm and fuzzy. What did I value?
This might help me get a better understanding of myself, my values, and determine what the rest of my life will look like now that I know I can create anything for my life
WORK HARD
I remember the way my mom and dad worked really hard everyday. My parents grew up working hard at a very young age. My father and my grandparents were migrant workers from Mexico and spent summers in central California picking fruit and vegetables from the fields. My mom did the same for her family. In fact, my grandparents pulled her out of school in the 8th grade to help them by also working in the fields and raising her brothers while her parents worked.
SACRIFICE
My mom did whatever it took to give us a good life. When we moved to Houston because of a job my dad found to give is a better living, my mom continued to do what ever it took to provide. She became a housekeeper for lots of wealthy people and my mom was a great cook so she catered lots of wealthy client's parties. During the summers she would take me and my sister along to work with her. We would spend the day at these beautiful homes and go swimming in their pools. My mom and dad worked so hard so make a better life for us. My mom had to move thousands of miles away from everything that was familiar to her. They made big sacrifices.
MEMORIES AND RELATIONSHIPS TRUMP WEALTH
What's weird is that when we would go to work with my mom to clean those big beautiful homes, I can't remember ever thinking wow I wish I had lots of money and a big home like this. I do remember thinking it would be so fun to have a pool because we had so much fun in the pool. Growing up my sister and I had so many fun memories of swimming at the community pool and hanging out with friends. Even back then. I knew memories and strong relationships with friends and family were more important than money. I'm not saying I don't want to be wealthy but I don't want to stock pile it. I want to enjoy it with family and friends. Make memories.
BEING PRESENT
My mom worked very hard, but she was always present in my life. She was always around making sure we were doing the right things, hanging around with good people, and raising us to be good people.
HAVE FUN
Our family had lots of parties! We celebrated everything! Anytime my mom could she would have people over and host a fabulous get together. Its her gift. She is a people person. She loves helping people, being around people and everyone loves my mom.  She taught us to let loose and have fun.
FAMILY and FOOD
My mom is a great cook, so I have many vivid memories of great food. Food brings people together. My mom always woke up early and made us a fresh warm meal every morning and even if she worked late, we always had a home cooked meal on the stove for dinner. We always ate as a family. No matter what, the 6 of us would sit and eat dinner.
GIVE IT YOUR BEST!
My parents always taught us to try new things and never to quit unless we had really given it our best. They always pushed us to be better at everything, Sports, education, being a better person.  Don't quit unless you can say you did the best you could!
NEVER FORGET WHERE YOU CAME FROM
My parents always taught us that no matter how much success we experience, to never lose sight of where we came from and who we are. To stay grounded and true to who we are and our values.
Now I'm at a point in my life when I had to decide where am I going from here. I was blessed to have an opportunity to stay home with Averie over the last 3 years, and I have two more years to go before she will be in school.  What do I want for the next 30 years of my life? What can I teach her about having big dreams? What will inspire her? I feel blessed to have an opportunity to start my own business. I have found my passion and purpose. This will be the legacy I leave for Averie to dream bigger. I can't wait to see what Averie says about my life in 30 years and how the examples and values I show her will set the standard for her dream life.
I hope this has been helpful for you. Please comment any great takeaways or questions you may have. Let's schedule a complimentary coaching session. It would be my pleasure to serve you. Send me an email at Valerie@thebloomrevolution.com or sign up for a free consultation on my website at the www.thebloomrevolution.com
Keep Blooming!
Are you ready to sell more by serving others and achieve financial freedom?
My name is Valerie Garrison and I'm a Sales Performance and Leadership Coach and Trainer. I help clients improve their mindset in sales and leadership through one on one coaching and training, so that they can sell more by serving others, thus achieving financial freedom, and receiving their dream life.